After months of what the New York Times called "obsession" on the part of America's top diplomat, Secretary of State John Kerry has brokered an understanding that is dramatically reducing violence on most fronts in the Syrian civil war, while declaring open season on ISIS and the al-Qaeda-affiliated Nusra Front. After five years of conflict and as many as half a million deaths, and with ISIS threatening the heart of Europe, this is a welcome development.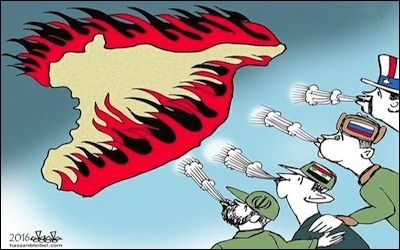 Syria could pay a terrible price if the ceasefire holds.
But let's not kid ourselves. It was Russian military intervention in Syria over the past six months (and the growing flow of Iranian-recruited foreign Shiite fighters into the country) that made the current ceasefire happen, by tipping the balance in favor of Syrian President Bashar Assad's minority Alawite-dominated regime. Mainstream Sunni Arab rebel groups and their regional sponsors were hitherto unwilling to contemplate silencing their guns absent a commitment from Assad to step down. Kerry helped seal the deal by threatening to end modest U.S. assistance to the beleaguered rebels unless they cooperate, but Vladimir Putin did the real arm-twisting.
In effect, the understanding allows the Russo-Iranian axis in Syria to freely seize large swathes of territory held by ISIS, Nusra, or any combination of forces including either. This is a plus insofar as there was little prospect of anyone else decisively dealing with these groups before the Russians intervened. By that time,Sunni-led governments in the region had effectively withdrawn from the US-led air campaign against ISIS. Turkey was widely reported to be covertly aiding ISIS forces fighting Syrian Kurds along its border, while the Arab Gulf states were primarily supporting "friendly" Sunni jihadist militias that won't challenge ISIS (unless attacked by it) and at times hemorrhage highly-trained fighters to its ranks. With friends like these, only an enemy can set things right.
Enabling the advance of pro-regime forces in Syria won't facilitate a resolution of the civil war.
But enabling the advance of pro-regime forces, even at the expense of ISIS and Nusra, is not going to facilitate a resolution of the Syrian civil war. Assad is less willing than ever to relinquish power to a transitional government in the wake of his new territorial gains, and his Russian and Iranian sponsors are less willing than ever to demand this of him.
And yet, with Syria's Sunni Arab majority outnumbering Alawites 5 to 1 and having lost hundreds of thousands of lives at Assad's hands, it's inconceivable that either the rebels or their regional sponsors will formally consent to his continuation in office.
At best the stakeholders can be prodded to rein in the violence, allow humanitarian relief to civilians, and perhaps even approve the formation of something calling itself a government. But there will be no return to a unitary state in the foreseeable future.
If the ceasefire holds, there will be no return to a unitary Syrian state in the foreseeable future.
We've been down this road before – a confessionally diverse Arab country undergoing state collapse, fragmentation along ethno-sectarian lines, and outside intervention by multiple stakeholders who prefer continued breakdown to any settlement conceivably acceptable to their opponents. A quarter-century ago, the first Bush administration brokered an understanding among regional and international actors to end 15 years of fighting in Lebanon, resulting in the 1989 Taif Accord and a U.S.-sanctioned Syrian invasion and occupation of the last remaining remnants of Lebanon's First Republic the following year.
Although the Taif process brought and end to the fighting in most of Lebanon and thus saved lives, it was more about managing broader relationships in the region than helping the Lebanese. By design, Taif provided for a decentralized state that was even weaker and more prone to division (and thus to subversion) than the one it replaced. Postwar governments, handpicked by the Syrians in consultation with the Americans and Saudis, allowed the Iranian-backed Lebanese Shiite Hezbollah movement to keep its arms and continue fighting Israel, while Syrian-backed Palestinian terrorist groups maintained training bases in Lebanon's Beqaa Valley and used the country to smuggle arms to Gaza.
The concert of powers that kept Lebanon at peace didn't last long after Assad's ill-fated decision to fight a proxy war against US force in Iraq from 2003 onward. Syrian troops were forced to withdraw from Lebanon in 2005, though not much has changed. Lebanon is less governable (the country has been without a president since May 2014) and more inundated with armed militias than ever before. Indeed, Lebanon served as the Syrian rebels' main safe haven and supply conduit during the early stages of the civil war, when Turkey and most Arab states were still reluctant to openly support armed opposition to Assad.
That's about as good as it can get for Syria if the current cease-fire holds. But the country's internationally-sanctioned Lebanization probably won't even get that good. Syria lacks Lebanon's democratic, pluralist traditions and vibrant pre-war civil society, instead coping with the legacy of decades-long minoritarian autocracy. Moreover, it lacks Lebanon's long history of intermittent sectarian conflict and reconciliation, which engendered an attitude of forgive-and-forget-for-now. The violence in Syria is far greater in scale – over twice as many Syrians have died in the past five years than did Lebanese in their entire 1976-1991 civil war – and more explicitly sectarian. Syrians might just have to fight this thing out.
Gary C. Gambill is a research fellow at the Middle East Forum